Mindfulness for Children Teacher Training
This 16 Hour Module includes:
14 Hours of training videos to complete at our own pace
2 hours Practicum Teaching and Self-Reflection
Certificate of completion for 16 Hours of training that counts towards your 96 Hour Certificate with Young Yoga Masters, a Yoga Alliance Registered Children's Yoga School
About the Training
What is Mindfulness:  Learn the various ways Mindfulness can be practiced to calm both teachers and students and help them get ready to learn. Get effective tools including the Meditations for Growing Minds Album and Activities to support you in introducing Mindfulness to Children.
Research on Why Mindfulness is so Popular: Discover how Mindfulness works on the brain and body and the research and evidence that support the practice of Mindfulness.
Mindful Breathing Tools: Explore breathing tools that kids can practice anytime, anywhere, to help calm the brain, and learn why they work.
Mindful Movement, Mindful Living: Utilize Mindfulness in everyday activities that don't a lot of take extra time, such as walking, stretching, or getting a drink of water. Learn to turn typically "boring" times like waiting or doing chores into opportunities to gain clarity and balance.
Social and Emotional Learning through Games: Practice kid-friendly games and activities that promote Social
Mindfulness for Children: 16 Hour Kids Yoga Teacher Certificate
Tools, research and practical activities to introduce Mindfulness to the children in your life
Save Over $50 with Online Training
Online training gives you no-frills pricing for extra savings. You get PDF versions of all Manuals and Activity Pages that you save and print when you want. Everything is online, no materials are mailed to you.
Your 16 Hour Certificate is issued online at the successful completion of all module course work.
Register and Start Today:
There are 2 steps to complete your registration for the 96 Hour Certification:
Review the Course Release, Waiver and Refund Policy. By registering you acknowledge your agreement with the Release and Waiver Form and Refund Policy.
Complete your payment and registration from the options below.
Once your payment is complete, you will have instant access to the training.
Save with the 96 Hour Training Bundle!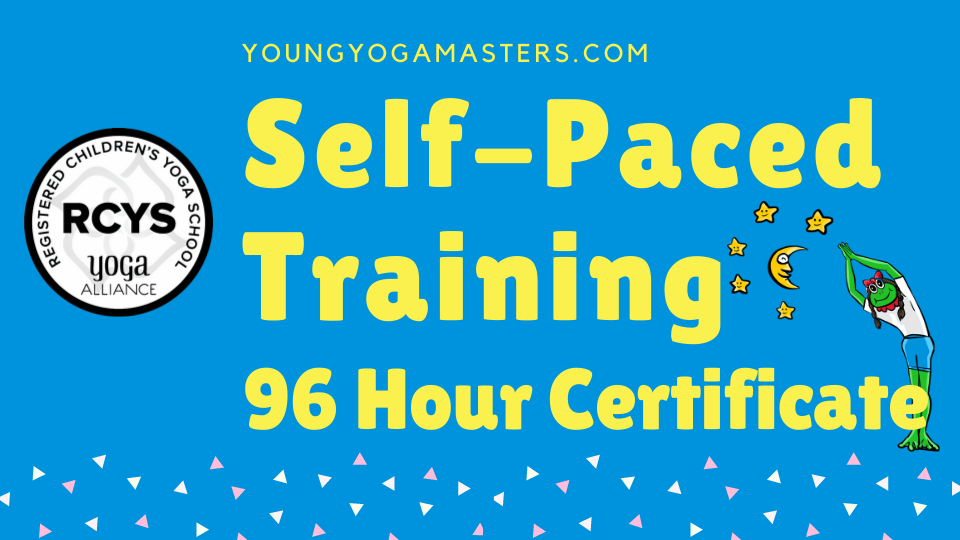 Take this Training as Part of the 96 Hour Certification and save over $450
Find out more about the full 96 Hour Certificate here.