Yoga Literacy - Kids Yoga Teacher Training
This 16 Hour Module includes:
13 Hours of recorded training
2 hours Practicum Planning, Teaching, and Reflection
1 Hour Review and Multiple Choice Quiz Assessment
Certificate of Completion for 16 Hours of training that counts towards your 96 Hour Certificate with Young Yoga Masters, a Yoga Alliance Registered Children's Yoga School
What You get in the Yoga Literacy Module:
Teach Yoga Properly: You'll take an in-depth look at alignment in kids yoga so you teach yoga safely and properly which prevents yoga injuries. With the 5 Point Check List for all yoga poses, you'll learn the principles of alignment for teaching yoga poses, principles that transfer to all yoga poses.
Tons of Yoga Activities for ages 3 – 15 years old and variations for yoga poses for each age group.
Get an Amazing Yoga Alphabet: Discover how the Alphabet is more than letters, it's word games and storytelling too! You'll learn how to make yoga interesting for kids using their names and props included in your registration.
Utilize Literacy and Storytelling Games that make yoga fun and enhance spelling and other school lessons.
Engage kids in fun partner yoga poses.
Help Kids Self-Regulate: You'll also teach relaxation techniques that are great for calming kids at the beginning of class, re-gaining focus when needed throughout your lesson plan, and providing much needed relaxation at the end of class.
Kids Yoga Teaching Experience in the Practicum: observe your trainers teaching actual children using the Frog Yoga Alphabet. Then you will choose a Lesson Plan to teach using the Frog Yoga Alphabet. You'll reflect on your experience and receive guidance in the live Zoom calls to build your skills and confidence as a kids yoga teacher.
Recorded Training: You'll get to sit in on the live training that was held in August 2020, at a pace that works for you.
Yoga Literacy: 16 Hour Kids Yoga Teacher Certificate
Learn how to teach kids yoga using the letters of the alphabet, partner poses, and 22 games and activities for early readers to teens.
Save with Online Training
Online training gives you no-frills pricing for extra savings. You get PDF versions of all Manuals and Activity Pages that you save and print when you want. Everything is online, no materials are mailed to you.
Your 16 Hour Certificate is issued online at the successful completion of all module course work.

Save:
For a limited time get:
40% OFF any module with code: SELFPACEDSAVE40


50% OFF the 96 Hour Bundle with code: FINALCOHORT50
Register and Start Today:
There are 2 steps to complete your registration for the 96 Hour Certification:
Review the Course Release, Waiver and Refund Policy. By registering you acknowledge your agreement with the Release and Waiver Form and Refund Policy.
Complete your payment and registration from the options below.
Once your payment is complete, you will have instant access to the training.
Save with the 96 Hour Training Bundle!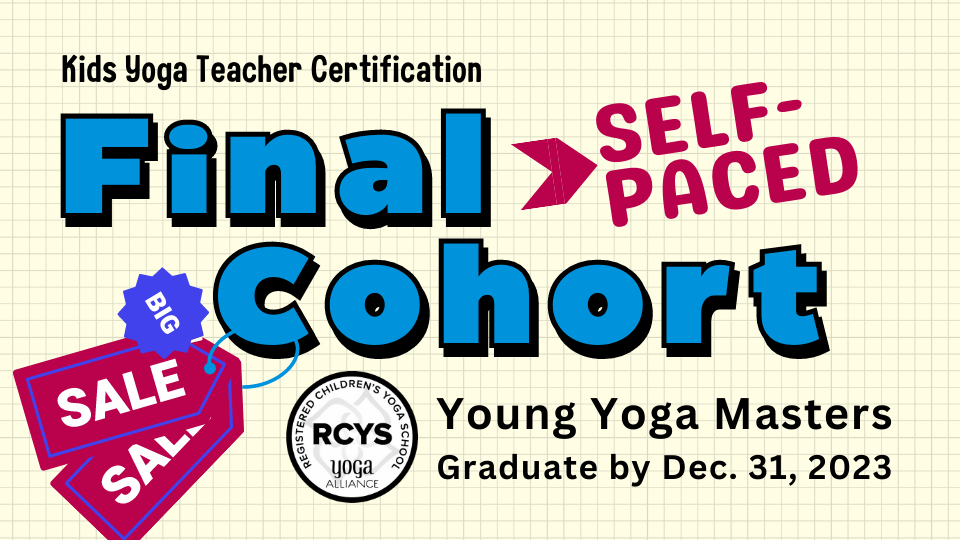 Take this Training as Part of the 96 Hour Certification and Save Even More
Find out more about the full 96 Hour Certificate here.