About
Teach Yoga Properly: You'll take an in-depth look at alignment in kids yoga so you teach yoga safely and properly which prevents yoga injuries. With the 5 Point Check List for all yoga poses, you'll learn the principles of alignment for teaching yoga poses, principles that transfer to all yoga poses.
You'll cover yoga activities for ages 3 – 15 years old and variations for yoga poses for each age group.
Discover how the Alphabet is more than letters, it's word games and storytelling too! You'll learn how to make yoga interesting for kids using their names and props included in your registration.
Utilize Literacy and Storytelling Games that make yoga fun and enhance spelling and other school lessons.
Engage kids in fun partner yoga poses.
You'll also teach relaxation techniques that are great for calming kids at the beginning of class, re-gaining focus when needed throughout your lesson plan, and providing much needed relaxation at the end of class.
Yoga Camp Practicum: observe your trainer leading a yoga class using the Frog Yoga Alphabet. Then you will be given specific games and activities from the Frog Yoga Alphabet to practice teach, under the supervision of the trainer, during the Yoga Camp. Participants will observe and support each other teaching during the Yoga Camp.
Yoga Literacy: 16 Hour Kids Yoga Teacher Certificate
Learn how to teach kids yoga using the letters of the alphabet, partner poses, and 22 games and activities for early readers to teens.
Registration and Pricing for 16 Hour Certification:
Regular Price: $425*
$50 Savings with Special Online Training Price
$375 CAD*
*Plus applicable taxes.
This amount is in Canadian dollars. Please check your currency.
Online training gives you no-frills pricing for extra savings. Students can print their own manuals from PDF's provided. Students have the option of purchasing props from a list of recommended resources.
Your 16 Hour Certificate from our Yoga Alliance Registered Children's Yoga School, is emailed to you at the successful completion of all modules and course work.
Partial Scholarships: Those whose income has been interrupted may request a code for a partial scholarship when they complete the Course Application. The maximum scholarship is $100 OFF per 16 Hour Certificate.
Save with the 95 Hour Training Bundle!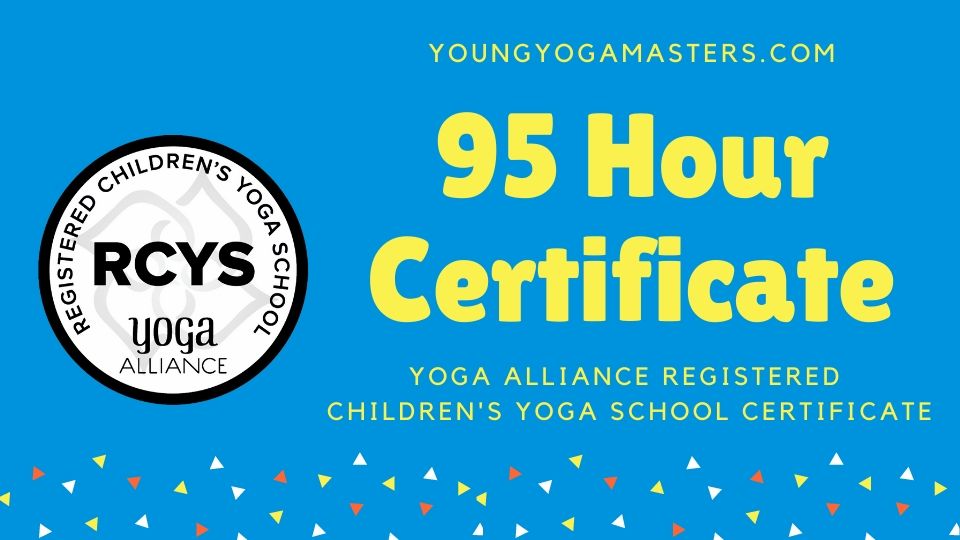 Sign up for the entire 95 Hour Certificate and save $510
16 Hour Training: $375*
96 Hour Training: $1740* (That's $290 per 16 Hour Module)
*plus applicable taxes
Find out more about the full 95 Hour Certificate here.