Themes and Dreams
This 16 Hour Module includes:
14 Hour prerecorded training
2 hours Practicum Teaching and self-reflection
Certificate of completion for 16 Hours of training that counts towards your 96 Hour Certificate with Young Yoga Masters, a Yoga Alliance Registered Children's Yoga School
About the Themes and Dreams Certificate
The Themes and Dreams Certificate features simple postures and meditations that can be safely taught with little explanation. The focus is on creating lesson plans using themes. Starting with the Young Yoga Masters curriculum you'll see powerful examples of how to take your classes from good to awesome! Then you'll get the tools to see how easy it is to create lesson plans with new themes. In this weekend workshop you will discover:
Themes that Bring Yoga Alive for Youth: Explanations for yoga, meditation, mindfulness, and stress relief put in simple terms like you've never heard before! These explanations help students and teachers relate to yoga in a way they can understand and connect with more deeply.
Meditations that Youth Ask For: Yes, that's right. It's not uncommon for children to come in and ask for these meditations once they've experienced them!
Teen Yoga: Teach yoga to teens and how to effectively theme your classes for tweens and teens.
If You're Going to Dream - Dream BIG! Stories to inspire youth to let go of worry, relax, imagine and dream. They make it fun for teachers to bring yoga to youth. Most importantly, they are written in neutral language that is suitable for any environment.
The Kids Yoga Class Creator + Teen Yoga Class Creator: A lesson plan template to guide you through developing your own kids yoga classes for different ages, time frames, and settings from the living room to the studio.
Quick Yoga: Quick, everyday tools for calming and centering.
Rejuvenation: An amazing course to connect with others and nourish your soul. This training is about practical, personal, and professional development. It's full of imagination and fresh ideas.
Children's Yoga Practicum: You'll be guided to complete your kids yoga practicum component. You'll observe your lead trainers teaching kids yoga and then you'll teach from the assigned curriculum and get feedback to help you develop as a kids yoga teacher.
Look Inside the Themes and Dreams Certificate
Teach Yoga principles in a way that awakens the imagination of kids to dream big!
Save with Online Training
Online training gives you no-frills pricing for extra savings. You get PDF versions of all Manuals and Activity Pages that you save and print when you want. Everything is online, no materials are mailed to you.
Your 16 Hour Certificate is issued online at the successful completion of all module course work.
Register and Start Today:
There are 2 steps to complete your registration for the 96 Hour Certification:
Review the Course Release, Waiver and Refund Policy. By registering you acknowledge your agreement with the Release and Waiver Form and Refund Policy.
Complete your payment and registration from the options below.
Once your payment is complete, you will have instant access to the training.
Save:
For a limited time get:
40% OFF any module with code: SELFPACEDSAVE40


50% OFF the 96 Hour Bundle with code: FINALCOHORT50


Save with the 96 Hour Training Bundle!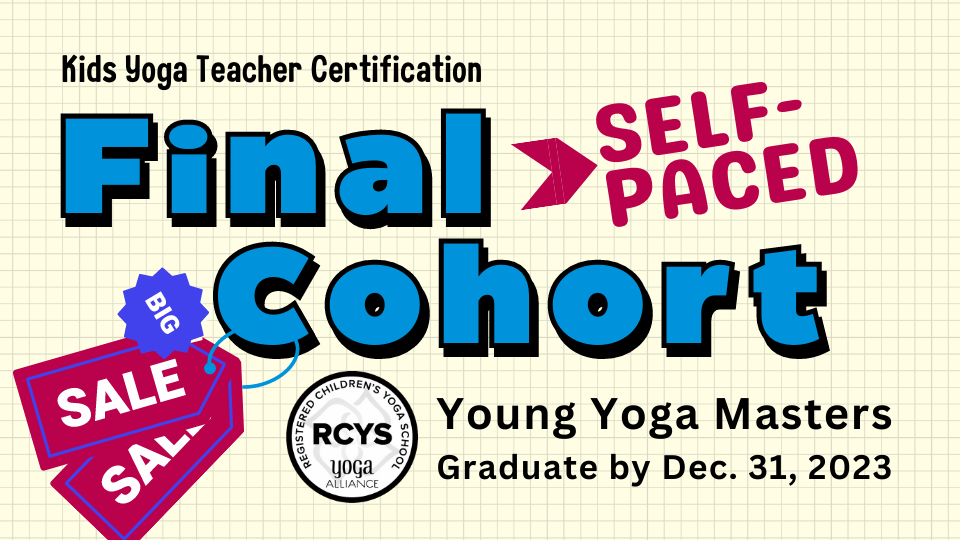 Take this Training as Part of the 96 Hour Certification and Save Even More
Find out more about the full 96 Hour Certificate here.