This is a BUNDLE certificate which includes:
Kids Yoga and Mindfulness Training (School Age) (8 Hour)
Family Yoga (4 Hour)
Chakras for Children (4 Hour)
About
Kids Yoga and Mindfulness - An Overview: Discover the fun of teaching Kids Yoga in this dynamic, playful, and comprehensive 8 Hour training. You'll learn tips and tricks for teaching yoga and mindfulness to kids through storytelling, effective props to get kids attention, and get printable colouring pages for art and craft activities.
Family Yoga and Adult and Child (Moms and Tots Yoga) - yoga classes that can become a hub for the community! These classes give people a place to gather for healthy activities, to meet like-minded people who are also interested in yoga, and for some, to meet new friends who have children and form new friendships. Learn how to teach family yoga in this 4 hour workshop.
Chakras for Children: Teach school-age children to build on their innate talents while exploring the Chakras as tools for Social and Emotional Learning. Come explore the Chakras and how to teach them to children using the Young Yoga Masters Chakra activity book and handouts.
Registration and Pricing for 16 Hour Certification:
Regular Price: $425*
$50 Savings with Special Online Training Price
$375 CAD*
*Plus applicable taxes.
This amount is in Canadian dollars. Please check your currency.
Online training gives you no-frills pricing for extra savings. Students can print their own manuals from PDF's provided. Students have the option of purchasing props from a list of recommended resources.
Your 16 Hour Certificate from our Yoga Alliance Registered Children's Yoga School, is emailed to you at the successful completion of all modules and course work.
3 Step Registration Process
There are 3 steps to complete your registration for the 16 Hour Certificate.
Review the Course Release, Waiver and Refund Policy. By registering you acknowledge your agreement with the Release and Waiver Form and Refund Policy.
Complete the Course Application here.
Remit your payment online or through e-transfer.
Your registration is not confirmed until payment and application form are received.
Contact [email protected] if you have any questions.
Refund Policy: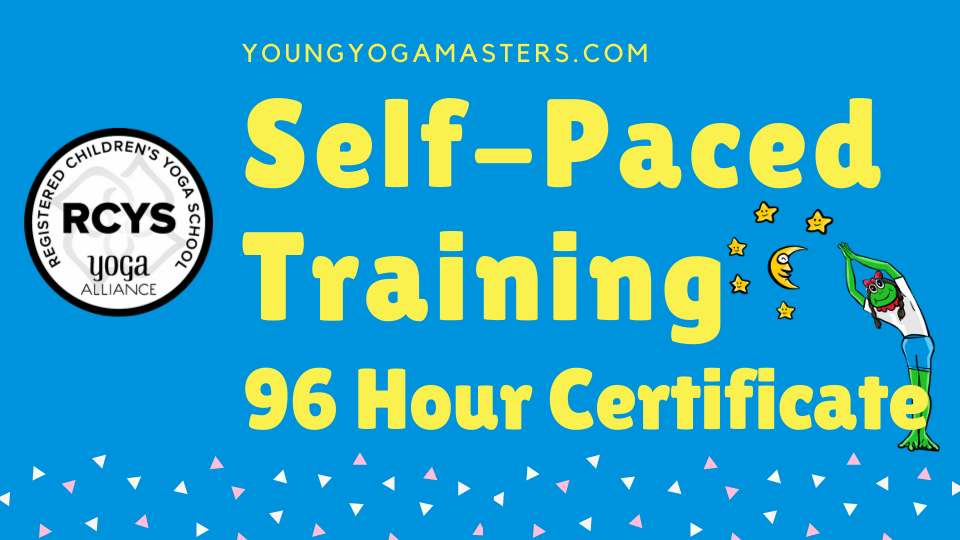 Sign up for the entire 95 Hour Certificate and save $510
16 Hour Training: $375*
96 Hour Training: $1740* (That's $290 per 16 Hour Module)
*plus applicable taxes
Find out more about the full 95 Hour Certificate here.