Sept. 19 + Oct 2, 2021
Inclusive Yoga
16 Hour Kids Yoga Teacher Training
This 16 Hour Module includes:
Downloadable manuals
3 Hour prerecorded training
10 hour live zoom call training
3 hours Practicum Observation and Teaching
Certificate of completion for 16 Hours of training that counts towards your 96 Hour Certificate with Young Yoga Masters, a Yoga Alliance Registered Children's Yoga School
Times are Eastern Standard Time:
Sunday, Sept. 19: 10 am – 12:30 pm
Sunday, Sept. 19: 2 pm – 4:30 pm
Saturday, Oct. 2: 10 am – 12:30 pm
Saturday, Oct. 2: 2 pm – 4:30 pm
You Can Accommodate Children with a Variety of Needs in Your Classes!
All children come with a unique set of needs. Discover effective techniques to bring yoga to all children. This Certificate gives you an introduction to Inclusive Yoga with information, resources, and class plans for groups that are not always represented in typical yoga materials.
Introduction to understanding children with special needs, including children with ASD (Autism Spectrum Disorder), Anxiety, and Different Abilities
Yoga for Boys as a special population – so boys don't continue to think of yoga as a "girl thing."
Yoga Sensitivity – how to introduce yoga to children in a way that respects all cultures, religions, and those of no religion that is extremely school friendly too.
Guest Teacher - Raven McRorie: We examine the report on racism in the school system and what that means for BIPOC as students and teachers.
Guest Teacher - Yasuko Tanaka: Teaching Yoga to children on the Autism Spectrum
Comparisons of a session with kids in a typical yoga class and yoga with kids with different needs.
Sample lesson plans for children of different ages using specialized props and stories to enhance the teachings.
How to set up your classroom to minimize distracting elements.
Use of Visual Schedules and Visual Antecedent Procedures to ease anxiety.
Strategies for involving and interviewing parents, caregivers and teachers.
Using the poses of the Sun Salutation to engage children in short yoga exercises and longer sequences.
Yoga Practicum: Observe your trainers teaching kids yoga classes and plan and teach a 40 minute yoga class to children
And much more…
Inclusive Yoga: 16 Hour Kids Yoga Teacher Certificate
Discover effective techniques to bring yoga to all children!
Registration and Pricing for 16 Hour Certification:
Regular Price: $425*
$50 Savings with Special Online Training Price
$375 CAD*
*Plus applicable taxes.
This amount is in Canadian dollars. Please check your currency.
Online training gives you no-frills pricing for extra savings. Students can print their own manuals from PDF's provided. Students have the option of purchasing props from a list of recommended resources.
Your 16 Hour Certificate from our Yoga Alliance Registered Children's Yoga School, is emailed to you at the successful completion of all modules and course work.
Partial Scholarships: There are a limited number of scholarships for loss of income and to increase representation of BIPOC in the yoga community. Complete the application for scholarship opportunities.
3 Step Registration Process
There are 3 steps to complete your registration for the 16 Hour Certificate.
Review the Course Release, Waiver and Refund Policy. By registering you acknowledge your agreement with the Release and Waiver Form and Refund Policy.
Complete the Course Application here.
Remit your payment here online or through e-transfer. For those requesting the installment plan you will be contacted through your application (in step 2).
Your registration is not confirmed until both the payment and the application form are received.
Contact [email protected] if you have any questions.


Refund Policy: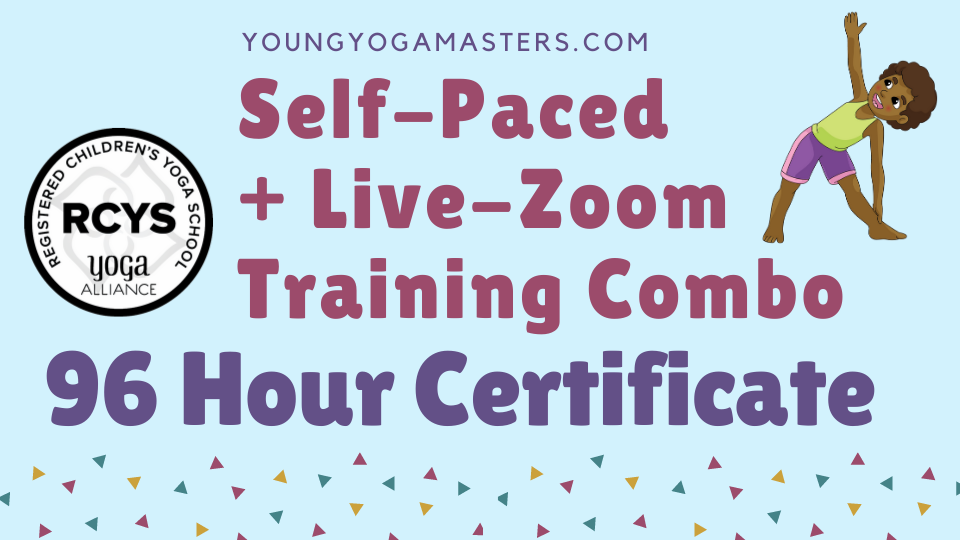 Sign up for the entire 96 Hour Certificate and save over $450!
16 Hour Training: $375*

96 Hour Training: $1740* (That's $290 per 16 Hour Module)
*plus taxes where applicable. A limited number of scholarships are available. Find out more about the full 96 Hour Certificate here.